Nestled in a quiet valley, the Black Earth Campus provides a true wilderness experience and features 38 acres of rugged unglaciated terrain for hiking and in-depth environmental study. Here, visitors can explore challenging topography, mature woods, and rocky outcroppings, in addition to two indoor educational facilities for special seasonal programs, overnight programs or private rentals.
Black Earth Indoor Facilities:
The Alexander Studio is the ideal space for a quick orientation to the site, educational programs, meetings and workshops. The building features instructional and meeting spaces, cathedral ceilings, circular performance platform, and outdoor deck. Additionally, a built-in stage lighting system is available.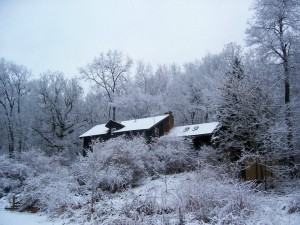 The Leopold Lodge is a three-story log cabin with a wrap around porch, meeting space and sleeping quarters. The lodge features a two-story stone fireplace and rustic furnishings, as well as a full kitchen, basement with bunk beds, 3 bathrooms, and easy access to beautiful hiking trails and paths.  It is the ideal spot for educational programs, meetings, and retreats.
Black Earth Trails & Terrain

The Black Earth Campus, with its more challenging topography, mature woods, and rocky outcroppings, provides complementary experiences for maturing "knee-high naturalists" and is an outdoor learning laboratory for more challenging exploration by middle school, high school, and other students.
The Black Earth terrain is marked by steep hills and rocky, wooded land surrounding a grass valley. A council ring and fire pit are located in the heart of the valley.
Trails lead visitors around the valley and up the hillside to remnant prairie patches and outlooks. Wear sturdy shoes for hiking, and be sure to dress for the weather!
Land projects include: the creation of a prairie plot on a former corn field, the restoration of an oak savannah in the valley; and other native planting projects. Volunteers for these ongoing projects are always welcome!
Hours: The Black Earth Campus is only open to the public for public programs, overnights, rentals and private events.
For directions to ALNC's Black Earth Campus, visit our Hours & Directions page.