Gifts of Securities
By giving a gift of appreciated securities, you may avoid capital gains tax while enjoying an income tax deduction for the current fair market value of your gift. A gift of real estate yields a tax deduction for the full fair market value of the property and can help you avoid capital gains tax. For more information on non-cash gifts and instructions on how to transfer a gift of securities, see our Securities Transfer Instructions or request a copy by calling (608) 221-0404 or emailing kelley@aldoleopoldnaturecenter.org.
For more information on making a gift by transferring securities, please click here.
Supply List
At ALNC, we always try to reuse and recycle whenever possible, so we happy to welcome donations of new or slightly used supplies! If you'd like to make a donation, please give us a call at (608) 221-0404 or just stop by during our open hours.
Check out our supply list
to see if you can fill our need!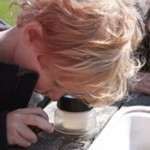 Volunteer Opportunities
Volunteer with ALNC! Learn about nature, gain experience, build your resume and give back to the community. Come once a month or once a week, the sky's the limit!
Please contact Kyle Coker, Facilities & Grounds Manager, at (608) 216-9387 or kyle@aldoleopoldnaturecenter.org to learn more about general volunteer opportunities and group service work days.
We offer special event and regular volunteer opportunities throughout the year. Our Land Steward Work Days are scheduled once a month in the spring, summer and fall months.