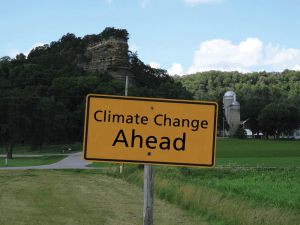 Climate change has become an important conversation for the international, national and local communities. Here in Wisconsin, organizations and communities are going beyond conversation and taking positive steps towards solutions that reduce emissions and our reliance on fossil fuels.
A recent publication by the Wisconsin Academy, Climate Forward: A New Road Map for Wisconsin's Climate and Energy Future, highlights these innovative and sustainable organizations and communities across our state and provides insight to assess how we can all build a safe future for our environment and for ourselves. For the past eighteen months, the Wisconsin Academy has gathered a diverse team of thoughtful experts and stakeholders from various sectors around the state, encouraging and amplifying productive conversations about innovative climate and energy solutions for Wisconsin.
Brenna Holzhauer, Aldo Leopold Nature Center's Director of Exhibits and Digital Curricula and Nature Net Coordinator, was a contributor to the publication. With her background in climate science and environmental education, her input mainly centered around the importance of public engagement, environmental education, and climate and energy literacy for Wisconsin residents of all ages. Her contributions to the report align with Aldo Leopold Nature Center's mission and programming, as we work with visitors and students of all ages towards better connections with nature and the environment and greater understanding of climate, energy, and the natural systems around us. We agree that environmental education is a lifelong learning process which contributes to an informed and involved citizenry, able to take action to help ensure an ecologically and economically sustainable environment.
Given Wisconsin's wealth of scientific and technical capacity in these areas, its rich conservation heritage (including Aldo Leopold!), and the impacts of climate change on Wisconsin life, the Wisconsin Academy group released this report in an effort to stimulate more public dialogue on this topic and spark innovative solutions in individuals, businesses, and community leaders. As climate change continues, our environment will change, but these profiles of Wisconsin organizations and communities that are doing good for the environment give us hope for the future.
Find more information and view the full report here: https://www.wisconsinacademy.org/sites/default/files/ClimateForward2014.pdf