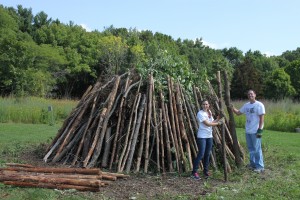 One of our favorite ways to celebrate the seasons here at the Aldo Leopold Nature Center is our annual Fall celebration, Pipers in the Prairie.  Volunteers have been onsite in recent weeks to help get ready for this wonderful event, mulching the trails, pruning the hedges, tending our Phenology and Children's garden, and most importantly, building the Pipers bonfire!
The bonfire pile, stacked multiple stories high with donated pine logs and brush from our local land restoration efforts, stands tall above the native prairie grasses in the Aldo Leopold Nature Center's nearby prairie.  Bagpipes, drums and torches will lead the procession from the Center down to the bonfire, where the fire brigade will light up the early evening sky on Saturday, October 4th, topping off a fun evening of celebration and fundraising.  Check out this recent Monona Herald-Independent news article about Pipers in the Prairie, and keep reading for more information!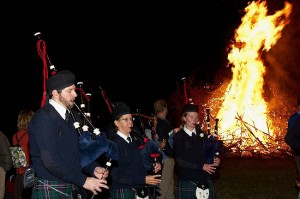 Pipers in the Prairie is a family friendly event and a Madison tradition now in its 12th year which offers a unique and unforgettable seasonal celebration unlike anything in Madison.  The unforgettable evening of enchanting and unique entertainment features:
Complimentary Wine, Beer and Non-Alcoholic Beverages
A hearty buffet of delicious hors d'oeurves and decadent desserts!
Captivating Celtic music by West Wind and a prairie performance by the Green Man!
An enticing onsite and online silent auction!
Seasonally inspired crafts for the kids!
Exciting Irish dance demonstration by Cashel Dennehy!
Pipers in the Prairie and Drummers on the Drumlin!
A spectacular Festival Fire by Prairie Restorationists!
All proceeds from this celebration benefit children's programming at the Aldo Leopold Nature Center. This event continues the celebration of Aldo Leopold Nature Center's 20th anniversary in the Monona community; ALNC has been offering nature education programs since 1994 and has become a premier environmental education facility for the region.  Pre-registration for Pipers is recommended; you can register online or contact Kelley Van Egeren at 608-216-9373 or kelley@naturenet.com.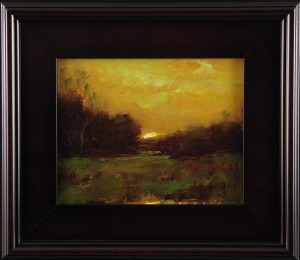 Whether or not you can join us for Pipers in the Prairie on Saturday, October 4th, you can help raise crucial funds to our educational programming by participating in the silent auction, now open online!  There are great items up for auction this year, including gift certificates for fun activities and restaurants, sporting goods, jewelry, and beautiful artwork, including stunning nature scenes from the Janus Gallery here in Madison.  So check out the great items online, then bid high and bid often!