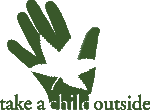 The Aldo Leopold Nature Center is proud to be the regional partner for National Take A Child Outside Week, Sept. 24-30th!  The Take a Child Outside program designed to encourage children and adults to spend time together outdoors. By giving parents, grandparents and teachers information on outdoor activities and places to go, our goal is to help children develop a better understanding and appreciation of the environment and an enthusiasm for exploring the natural world.
The program website has great ideas for activities to explore nature, and lists partners all across the country, and Aldo Leopold Nature Center and Nature Net are the featured regional partner.  We are proud to offer opportunities for children, students and families to engage with nature all year long, through our field trips, camp programs, workshops and seasonal events!
To celebrate Take a Child Outside week, visit our nature trails and our interactive exhibits, and be sure to sign up soon for our upcoming programs, like our fall fundraiser, Pipers in the Prairie, our preschool and homeschool programs, and our member celebration, Fall Fest!
"Nature— the sublime, the harsh, and the beautiful— offers something that the street or gated community or computer game cannot. Nature presents the young with something so much greater than they are; it offers an environment where they can easily contemplate infinity and eternity."
—Richard Louv