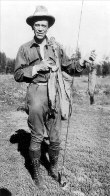 As a youngster, Aldo Leopold was an expert angler, and photographs and journals from his time spent in the outdoors show that he loved spending time on the water. He would have been especially proud to celebrate National Fishing and Boating Week, going on now! Here in South Central Wisconsin, we are lucky to have access to water bodies in many shapes and sizes. For those expert and beginner anglers living in the Madison area, there are plenty of ways to enjoy the outdoors and fish. Lakes Monona and Mendota have several species of fish to catch. The lakes contain Bass, Northern Pike, Walleye and Pan fish such as Sunnies, Crappies and Perch. There are also smaller populations of bullheads. All of these fish respond well to night crawlers and other live bait.
If you prefer to get out of the city to enjoy the water, Black Earth Creek is a common place to go fly fishing; the creek is fed by a natural spring which makes it a unique feature in the region, and well worth a visit. With three types of naturally reproducing trout, this creek is a great example of successful conservation efforts which keep the trout populations natural and thriving. From what we hear from our resident fishing enthusiasts at ALNC, the rainbow trout, brown trout and brook trout respond well to the pink squirrel fly and other artificial flies.
To continue the fishing fun, make sure to register for the Family Fishing Fun event at the Aldo Leopold Nature Center at our Monona campus this Father's Day: Sunday, June 15th. Family Fishing Fun is a great way to get the family together and let the masters teach the youngsters how to fish in our beautiful onsite pond. After learning different types of rods and reels and tying fishing knots, catching Bluegills and Bullheads in the pond should be a cinch.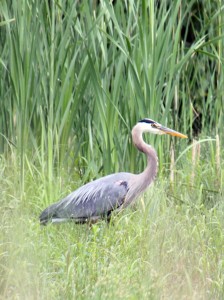 The family fun can continue throughout the month with a tour of the new Fishing Fun Month in the ALNC Exhibits and walking the trails of our National Wildlife Federation certified wildlife habitats. The pond and nearby wetland provides a perfect example of what makes a place a wildlife habitat. With plenty for animals to eat, water to drink, a variety of natural shelters, and space to raise young, it is no wonder the pond and wetland are always buzzing with wildlife! This Great Blue Heron was spotted yesterday near the Nature Center's pond, celebrating National Fishing Week in his own way, by catching some lunch. What fish and fowl will you spot when you visit ALNC? Stop by soon to see!