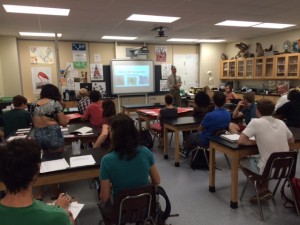 Did you know high school students have been investigating important environmental questions at both the ALNC and Edna Taylor Conservation Park?  La Follette High School students in the AP Environmental Science class have been conducting field studies in these local habitats for the past 5 years.  This year La Follette Biology 2 students also got in on the action.
The Instructional Purpose of the AP Environmental Science class projects was, "through presentations and discussion, students will demonstrate knowledge of ecological concepts and field data analysis."  Students spent the semester looking at water quality and biodiversity data in different ways.
The students researched and analyzed study plots across Edna Taylor and ALNC and developed research questions of their own choosing.
The students developed research questions, immersed themselves into learning about the topic, studied and used various methods for data collection (i.e. bird ID, insect sweeps, Google Mapping tools, dissolved oxygen measures, biotic index, pH), determined results and conclusions, developed abstracts, and relayed findings through posters and presentations.
They factored in a variety of interesting variables, including differences in restoration measures and practices of ALNC vs. Edna Taylor, and impacts of urbanization (proximity to homes and neighborhoods, runoff, pesticide usage, pollution, etc.).
They analyzed biodiversity by studying: varieties and native vs. non-native plants, species of birds, and orders of insects.
In addition to learning about the process of scientific inquiry and investigation, the students noticed some interesting conclusions:
Different findings between ALNC and Edna Taylor – edge effect, different rates of biodiversity
Fewer invasive plants at ALNC than ET = Increased biodiversity in insects at ALNC
Most common bird sightings were Redwing Blackbirds, American Robins, Cowbirds, and Canada Geese, but a few interesting less common sightings:

Scarlet Tanager
Baltimore Oriole
Rose-breasted Grosbeaks
Hooded Mergansers
Sandhill Cranes
Several students mentioned increased understanding of and concern for environmental issues (like invasive species, pollution, and biodiversity) and plans to continue studying science.
Check out the movies made by the Biology 2 class: Plot 3, Plot 4, Plot 7, Plot 8