ALNC had a visitor this week…'Flat Stanley,' a pen-pal type activity from a grade-school class in Maryland! Check out Flat Stanley's photos and notes from his ALNC adventure!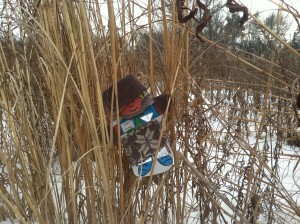 Dear Atilio and Ms. Diaz's class,
 I finally made it to Madison, Wisconsin last night and met my new friend, Brenna. It's really cold here (it was -8F when I got here last night!), so Brenna made me some winter clothes right away. Brenna works at a nature center museum, so she brought me with her today. It's been so much fun!
First, we went for a nature walk through a native Wisconsin prairie. It was snowy, but very beautiful. I saw lots of birds and followed some animal tracks, including rabbit, squirrel, fox, and deer. There were lots of very tall grasses that I had to climb through. Brenna told me that the roots of these grasses go twenty feet deep into the ground and help to hold the soil in place. In the spring, summer, and fall, they bloom with beautiful flowers. Before lots of settlers came to the Midwest, a lot of the region used to be covered with prairies just like this one — these are the same kinds of grasses that used to tickle the bellies of buffaloes!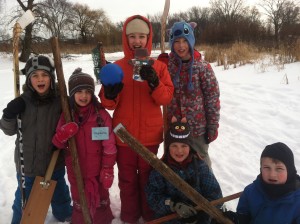 Then, we ran into some Wisconsin kids playing ice hockey on the pond — it was so much fun! Atilio asked what kind of sports people play in Wisconsin… well it turns out they enjoy the cold winters by playing hockey right on top of the frozen ponds and lakes! (I think they play lots of other sports too. I'll see what else I can find out about that…)
We went inside the museum to warm up, and I explored the exhibit areas. They have some astronomy exhibits right now, so I got to fly around planet Earth like an astronaut, and then I landed on the moon — it was out of this world!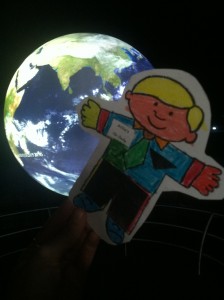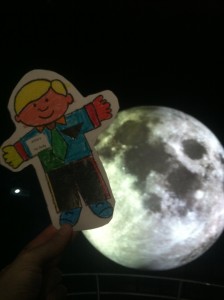 Wisconsin has been great so far, and I can't wait to see what I'll do this weekend. I'll write more soon — stay tuned!
Your friend,
Flat Stanley