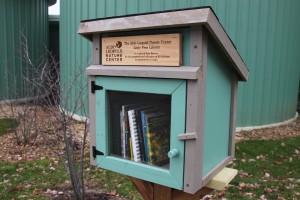 Across the world, Little Free Library has a presence on street corners, in driveways, and in parks. This little non-profit has been spreading throughout the world since its Wisconsin beginnings in 2010, and now the Aldo Leopold Nature Center has its own little free library. Throughout the city, you can see some small wooden schoolhouses a bit larger than a mailbox in front of houses or on bike paths. These little houses are filled with free books that anyone can borrow to read. The Little Free Library organization has sold thousands of these houses so that owners can put their favorite books in the small wooden box and share them with the world.
ALNC is now registered on the Little Free Library World Map that shows all of the 15,000 small schoolhouses full of books in the world. Some of the awesome books ALNC has placed in the Little Free Library are Wild About Wisconsin Birds by Adele Porter and Teaching Kids to Love the Earth, which goes hand in hand with our mission statement.
The ALNC Little Free Library will be a resource for guides and books about science, learning, and the natural environment Leopold loved.
What is so unique about every Little Free Library is that it is a piece of neighborhood art. Every owner can paint theirs differently and put whichever books they want inside of it. Each Little Free Library is distinct and personal to the owner and the surrounding community. From Ghana to Brazil to the United States, each Little Free Library is a treasure to its community and ALNC is excited to start its own Little Free Library legacy. Take a book, leave a book, and read on!