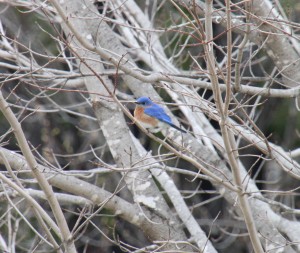 The beautiful Eastern Bluebird is a favorite among birdwatchers and nature enthusiasts alike. It is also an important predator on insects such as grasshoppers, caterpillars and beetles, which can be destructive to crops. It can be found in parks, gardens, hedges, and other areas across Wisconsin. Over the past few decades, the Eastern Bluebird has had trouble reproducing, and their populations have been declining. This is mainly due to habitat destruction and competition. Due to this loss in population size, Eastern Bluebirds have become somewhat protected throughout their nesting range. Because of efforts by volunteer groups and homeowners who have put up bluebird nest boxes, the Eastern Bluebird has started to bounce back.
Here at the Aldo Leopold Nature Center at the Monona campus, we have nine Bluebird nest boxes spread out across the grounds, which we have had for six years.  These nest boxes are wooden boxes with a 1.5 inch diameter round hole to prevent larger, invasive birds, such as the European Starling, from getting into the boxes.
This summer we are lucky enough to have a team of Badger Volunteers working with us at the Monona Campus. This is a program through the Morgridge Center for Public Service at UW-Madison. They are helping us with many different projects this summer, including working on our new phenology garden, as well as monitoring our Eastern Bluebird boxes.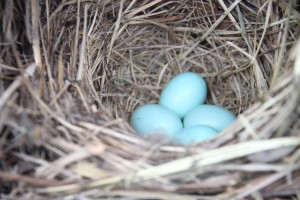 We try to monitor these boxes twice a month by checking each box to see if there is anything in them, and if there is, what species has inhabited the box. Eastern Bluebirds make very neat nests built with fine grasses or pine needles, so it is very easy to tell if they have inhabited the box. On the other hand, their main competitor, the House Sparrow, makes a very messy nest, usually with all sorts of materials, including garbage. If there is a nest present in a box from a species other than the Eastern Bluebird, we may remove it, to ensure that there is available habitat for the local bluebird population. Additionally, we check to see if there are eggs or babies in the nests. We record all of this information and send the data to the Bluebird Restoration Association of Wisconsin (BRAW).
Having your own Bluebird nest box in your yard is one way to help this beautiful species and can be a good way to observe them as they grow from eggs to full grown adults, which is a great learning experience. They are very easy to build and could make for a fun summer project!