Summer Wonder Bugs Update:
We also run Wonder Bugs during the school year!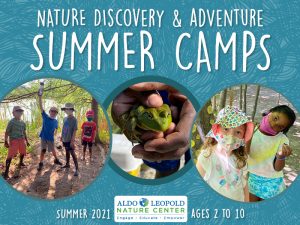 THE SUMMER CAMP BROCHURE IS HERE
Register for Wonder Bugs below.
If you would like to be added to our email list and receive information on program registration as it becomes available, please click here.
---
What you can expect this summer at Wonder Bugs:
Hand and surface sanitizers, as well as soap and water, will be readily available.
Any tools that we use (for example, magnifiers) will be thoroughly sanitized before and after use.
The focus will be on discovery as we use our senses to explore the grounds of ALNC, and learning through songs, stories, movement, and play, related to each week's theme.
The WBs leader will be masked. Wonder Bugs participants and caregivers should be prepared to wear a mask in accordance with our mask policy.
A simple, nut-free snack will be provided. It will either be commercially pre-packaged or prepared in sanitary conditions and served in individual portions. Participants are also welcome to bring a snack from home.
Please bring your own water bottle.
In the case of seriously inclement weather (eg. thunderstorms, heavy rain, high winds) we will cancel WBs for the day and let you know in a timely manner. Otherwise, come prepared with light rain gear, waterproof footwear, sun hats, sunscreen, insect repellent, and anything else you might need for a fun outdoor adventure.
While there will be summer camps for older children happening simultaneously at a reduced capacity in separate spaces around ALNC, the building itself will remain closed to the public so that outside traffic will be diminished.
COVID-19 Cancellation Policy:
If ALNC cancels a program due to COVID-19:
You will be contacted by an ALNC staff to ask your refund preference.
You may request a full refund, a credit towards future programs, or donate your program fees.
If you do not respond with a preference by a specified date, ALNC will issue you a credit (good for future programming) less a 15% administrative fee.
Cancellation Policy:*
Please notify us of any cancellations at least 7 days before the program. If you inform us:
At least 1 month in advance, we will provide a refund (minus 15% administrative fee) or transfer you to an alternate session if available.
At least 2 weeks in advance, we will issue you a voucher (minus 15% administrative fee) or transfer you to an alternate session if available.
Any cancellations or non-attendance less than 2 weeks beforehand will result in a full charge of the class fee.
Cancellation policy may change due to COVID-19.
---
Remember, in addition to early Summer Camp registration, ALNC Members also receive 10% off all summer camps – visit the Member Page to join or renew!
Please follow these instructions when registering.
Need to log back in to see your camps or fill out Medical Forms? Sign in Here.
2021 Pricing
INDIVIDUAL SESSIONS: $12/CHILD
SIGN UP FOR MORE AND SAVE: Sign-up for all 11 weeks of summer at the same time and save! Discounts will automatically be added to your cart when you register online.
WONDER BUGS SCHEDULE
Sessions are offered 6 times per week Tuesday through Friday and one Saturday a month.
TUESDAY through FRIDAY – 9:30am to 10:45am
TUESDAY & THURSDAY – 11:15am to 12:30pm
SATURDAY – 10am to 11:15am
---
ALNC members receive a 10% discount to all Summer Camp programs.
Click here to become a member!
Interested in receiving Tuition Assistance? Click here for our online application.