The Aldo Leopold Nature Center was selected to participate in Sustain Dane's 2014 MPower Business Champion Program, a one year program for businesses and organizations in the Madison area that aim to become more sustainable and reduce their environmental impact, while saving costs. ALNC is part of a cohort with 12 other area businesses; learn more in our spring blog post about the program.  The staff on our "Green Team" have attended sustainability sessions monthly to learn from guest speakers, check in with the MPower coordinators, and connect with other members of the business community who are also undergoing sustainability initiatives.
6 Months In: ALNC's MPower Report
In early November, ALNC's Green Team met with Sustain Dane to report out on our projects and progress after 6 months in the program. Several ongoing projects have helped us become an even more sustainable institution, as reflected in our recent awarding by InBusiness Magazine of the 2014 Sustainable Small Business of the Year. We're thrilled to share some of our recent successes, and look forward to presenting more at the MPower Sustainability Showcase in January of 2015. Here are some highlights:
Tapping Into Conservation: Low-Flow Sink Faucet Aerators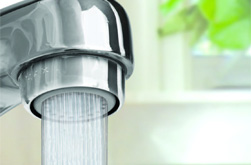 In an ongoing effort to conserve natural resources during daily usage, we installed sink aerators in the 4 faucet fixtures in our public restrooms, reducing the water flow from 1.5 gallons per minute to .5 gallons per minute. This means that the water used by students, visitors, and ALNC staff in our facilities has been reduced by a factor of 3. As water use increases, these new fixtures will cut the old fixtures' water use by 67%. By drawing 67% less water in restroom sinks, ALNC is reducing its impact on the Yahara watershed, reducing water draw from its lakes and rivers, and reducing the use of Monona's water infrastructure – decreasing pollution from many aspects. In addition, due to the water-energy connection (energy is used to treat, clean, and transport the water used in our building), saving water will result in energy savings as well.
Let Sleeping Machines Lie: Facility-Wide Computer Energy Policies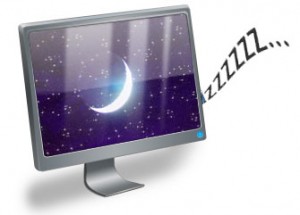 Our office staff use approximately 22 computers (HP Z200 CPUs) and 37 monitors (HP ZR22w).  While we are fortunate to have an environmentally-savvy staff who aim to reduce energy use wherever possible, we had not previously created a policy to specifically encourage computer sleep and shut-off across the entire organization.
Facility-wide adjustments have now been implemented for both sleep mode and computer shutdown settings, which will save approximately 30,000 kWh of electricity, and approximately 20.7 tons of CO2 in the atmosphere each year! To put this in perspective, this is the amount of carbon sequestered by 530 trees, or the annual greenhouse gas output of 4.5 cars. A little energy conservation from each of us really goes a long way!
Putting the Wheels in Motion: Bicycle Benefits at ALNC
The Aldo Leopold Nature Center has enrolled in Bicycle Benefits in order to help support local biking and local businesses. Enrollment in this program helps us to encourage alternative transportation by incentivizing biking for our visitors. Fortunately, Madison is an enrolled city!

In addition to aligning with our organization's environmental mission and message, participation in the program labels ALNC as a bike-friendly establishment and provides for promotion within the bicycling community, increased bike traffic, and increased customer loyalty amongst bike riding customers.  Encouraging cycling among our visitors and providing incentives for alternative transportation will reduce the fossil fuel usage and carbon emissions expelled by those coming to visit ALNC. For every ~15 or so miles biked to or from ALNC by visitors (or staff) is equivalent to about 1 gallon of gas saved, and each gallon of gas saved is equal to nearly 20lbs of carbon emissions.
Stay tuned for more updates and be sure to stop by soon to tour our green building features yourself!