For the first time in human history, the majority of the world's population lives in cities.  In the coming years, this trend will only increase: the United Nations estimates that by 2050, three-quarters of the world's population will reside in cities. This means that cities will account for 75 percent of the global use of energy, water and food supply.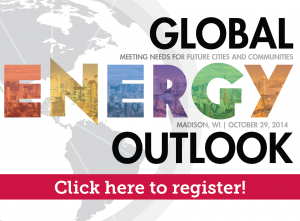 This year, on October 29th, the Wisconsin Energy Institute 2014 Energy Summit hosted by UW-Madison will bring international stakeholders to Madison to discuss upcoming demands for energy associated with urbanization and the growing global population, and the needs for future cities and communities worldwide. Participants will be connected with UW-Madison resources and will be able to network with one another and share their perspectives on the future of energy. The featured panel includes the Mayor of Madison, Paul Soglin, the Director at the Center for Comparative Legislative Management, Stephen Halloway, and the Environmental Director of the City of Freiburg, Germany, Franziska Breyer.  Additionally, there will be professors from universities around the world covering a wide range of energy related topics.  The Aldo Leopold Nature Center has partnered with WEI on several educational initiatives, and we are excited to attend the provide attendees with some updated information about our local energy efficiency initiatives and upcoming energy related programming!
The summit is from 8:30am-5pm and will be followed by a reception.  It will take place at the Wisconsin Institutes for Discovery and Union South on the UW-Madison campus.  If you register before October 1st, the summit only costs $40, (or only $15 for students), and the fee includes coffee, snacks and lunch. So join the WEI 2014 Energy Summit to learn more about upcoming demands for energy that cities will soon face, and how to meet these needs for future communities!