Fishing Fun Month – June 2015
June 7, 2015 @ 10:00 am

-

2:00 pm
Plunge headfirst into this month's programs and get hooked! Travel on a virtual tour of Earth's oceans, enjoy hands-on family fishing activities, visit our pond, learn about lakes and rivers, and discover the connection between climate change and fishing. Plus, join us on Father's Day for a special Family Fishing Program – learn to fish in our pond, tie basic knots, hunt for bait, practice your casting, and more!
Here's a glance at some of the activities and programs lined up for this month:
Flow: Currents and Climate – Science on a Sphere Ocean currents are essential in regulating the climates that make our planet so… livable. So how do these currents work, how do they affect us, and how might our actions be affecting them?
Fly-Fishing: How Climate Change Is Affecting Trout Fishing in Wisconsin – Exhibits  Wisconsin's 10,266 miles of trout streams are home to some of the best trout fishing in the U.S. Trout are cold-water species, requiring clear, cool water, high dissolved oxygen levels, and vegetative cover to protect young from predation. Slight changes in these habitat variables can cause stress on the different species of trout and potentially lead to local extinction.
Pond Critter Fishing – Nina Leopold Bradley Family Phenology Center  Cast a line in our phenology center to practice catching and identifying the fish and other creatures who live in our pond and neighboring wetlands. See what you can snag, check out what you caught with our ID guides, and color in your own critter key to take home! Then, head out to our pond to see if you can spot this pond life in action.
Fishing Station – Nature Nook Try out tackle, wrangle a rod, and learn about native Wisconsin fish in our Wetland Nature Nook!
Fishing Family Fun Program – at the Pond – Sunday, June 21 10am-12pm Fishing was one of the activities most enjoyed by Aldo Leopold as a youngster; join us to learn why in this introduction to angling! You'll see examples of different types of rods and reels, practice casting, learn how to tie basic fishing knots, and catch worms to use as bait as you fish in our pond! Fathers, mothers, grandparents, and future fishers of all ages are welcome. ALNC members:  $7/person or $25/family; Non-members: $8/person or $29/family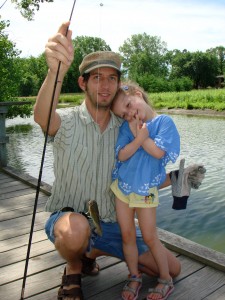 Related Events