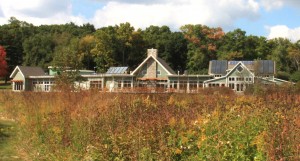 The Monona Campus, with its gentle, glaciated patchwork of oak savanna, wetlands, prairies and woodlands provides a quiet respite from the hustle and bustle of the city life that surrounds it. Here, visitors are invited to explore local flora and fauna on the nature trails, visit the Children's Shack, connect their observations to global phenomena in our interactive Climate Science Education Center, and learn about sustainability through our Green Building features.
Hours:
Monday through Friday: 9am – 4pm
Saturday and Sunday: 10am – 2pm
We love visitors at ALNC! Our lobby, gift shop, and restrooms are open to the public during all open hours at no cost. Admission to our interactive exhibits is $3-4/person and members receive free admission for four people (click here for membership information). Group discounts are available for groups of 10 or more with an advance reservation. Email brenna@naturenet.com to inquire.