Due to exciting changes to our building and grounds, we will not be taking reservations until June 2019. Please check back in Spring 2019 for an updated rental guide.
Looking for a scenic site to host a party, family reunion, retreat, workshop, meeting or corporate party? Look no further than the Aldo Leopold Nature Center!
Located in Monona, our facility offers a beautiful, eco-friendly venue for your group.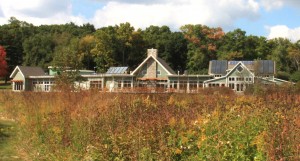 In addition, ALNC can offer your guests exciting one-of-a-kind experiences like team-building exercises, naturalist programs, interactive tours or custom shows in the Science On a Sphere, guided hikes, nature activities, Leopold lessons, and much more!
Best of all, your rental supports children's environmental education programs at the Aldo Leopold Nature Center.