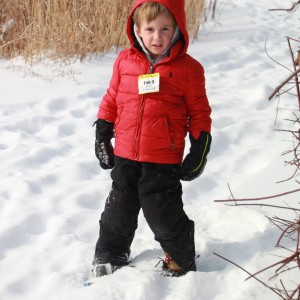 ALNC is closed until further notice due to COVID-19*
All programs are canceled, including the Wonder Bugs program. If you are registered for programming that is canceled, our staff will contact you. If you have specific questions about Wonder Bugs programming, please contact us at wonderbugs@aldoleopoldnaturecenter.org. Thank you.
*Please note, our date of reopen is based on recommendations from public health officials and other factors.

---
"If a child is to keep alive his inborn sense of wonder, he needs the companionship of at least one adult who can share it, rediscovering with him the joy, excitement and mystery of the world we live in."
– Rachel Carson
Introduce your toddler or preschool-aged child to a wonderful natural world. This program is specifically designed for children ages 2-5. Each week, we'll explore a different seasonal topic through hikes, outdoor exploration, music, puppetry, songs, stories and more. Each session will include a snack. An adult must accompany all children to the program.
Spring Wonder Bugs registration is NOW OPEN!
Spring session runs March to June
NEW THIS SPRING: SECOND SATURDAY WONDER BUGS
Can't make Wonder Bugs during the week because of work or school? Join us the second Saturday in March, April and May for a weekend Wonder Bugs session.
SPRING WONDER BUGS: REGISTER HERE


Looking for Summer Wonder Bugs? Visit our summer camp Wonder Bugs page.
Already registered? Login to access your program registration
PLEASE NOTE: We have a new database! Please follow these instructions when registering.
ALNC Members: Use your discount code to receive 10% discount. (Don't have a code, check your email or email us at alnc@aldoleopoldnaturecenter.org)
"The Wonder Bugs program has been such a great way to get kids invested and excited about nature. Teacher Tara is incredible. She's knowledgeable, creative and truly cares about each child's experience. Great staff, great programs and events!"
-Joanna, Wonder Bug parent
Programs will be held regardless of the weather, as we are able to move activities indoors if needed. Each program includes an outdoor component– please bring appropriate gear! In the case of severe weather, outdoor activities will move indoors.
Programs are offered on Tuesdays, Thursdays and Fridays throughout the school year. And starting in March…watch for Wonder Bugs offered on the second Saturday of the month!
More details coming soon.

For questions or to register by phone call (608) 221-0404 x 1
Wonder Bugs Objectives:
Provide an opportunity for parents to interact with their child in a natural setting,
Foster a sense of wonder for the natural world,
Foster admiration and respect for the land.
Registration Policy
Pre-registration and advance payment is highly recommended as there is a limited number of spots available. Register for either Tuesday AM, Tuesday PM, Thursday AM or Friday AM. Classes run from 9:30-10:45am for morning sessions and 1:15-2:30pm for afternoon sessions. If you are registered and will not be attending, please call us to inform us of your child's absence. For questions, please contact wonderbugs@aldoleopoldnaturecenter.org. To register by phone, call (608) 221-0404 x 1.
Cancellation Policy
Please notify us of any cancellations at least 7 days prior to the session you are enrolled in (wonderbugs@aldoleopoldnaturecenter.org). If you inform us at least one week before, we will issue you a voucher good towards another Wonder Bugs class or register you for an alternate session of Wonder Bugs. Cancellations for multiple sessions incur a 15% administrative fee. Any non-attendance or cancellations after this point (7 days) will result in the charge of the FULL class fee. ALNC does not give refunds for Wonder Bugs, only vouchers good for credit for future programming. If ALNC cancels a class for any reason, you will be given the option of attending a different session or a refund.
Sibling Policy
Wonder Bugs is an adult/child program for 2-5 year olds. If an older sibling is attending along with you that is old enough to participate, they should be registered as a participant. Younger siblings are welcome, but parents and caregivers must be prepared to remove a sibling from the program in order to preserve the parent child experience for you and for others. If our instructors and other participants feel that younger children are affecting the quality of the program for others participating, you may be asked to leave.
Wonder Bugs On the Road
Supported by our Community Access Fund, we've expanded access to our Wonder Bugs Preschool Program by offering it – for free – at different Play and Learn sites throughout the Madison Metropolitan School District. Sign up through Play and Learn to participate in Wonder Bugs On the Road.