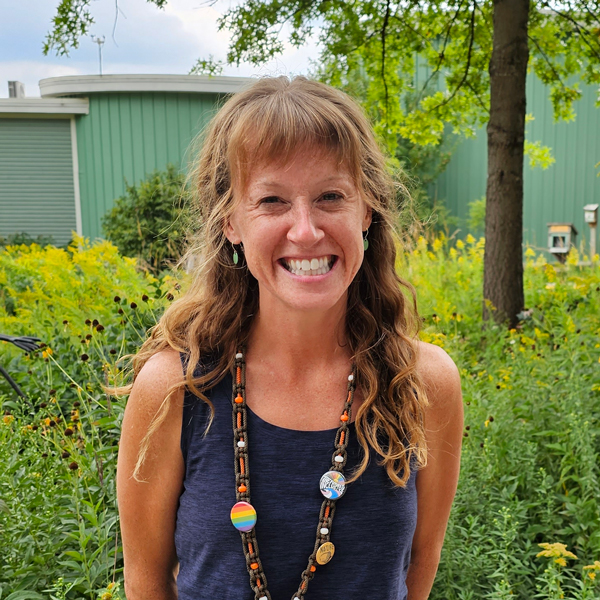 Courtney, Nature Preschool Director
courtney@aldoleopoldnaturecenter.org
Courtney is a lifelong educator who believes strongly in the power of playing and learning in nature. She taught kindergarten for ten years, most recently at Lowell Elementary in Madison. She has a Masters degree in curriculum and instruction from UW Madison, a reading specialist license, and a Bachelors in elementary education and psychology. Her connection with ALNC began in 2013 as a summer environmental educator. Courtney believes that nature can bring so much to both children and adults — joy, wonder, curiosity, peace — and is dedicated to helping nature-based education become a central foundation of all teaching and learning in our community. She is also passionate about social justice and anti-bias education which she believes is integral to early childhood learning environments. When not at ALNP, she spends time running, reading, and trying to tame her wild vegetable garden. She and her husband have a one-year-old who they love to take on hikes in the Madison area.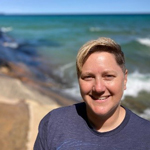 Melissa, Program Impact & Inclusion Manager
melissas@aldoleopoldnaturecenter.org
Melissa is a School Social Worker (by trade) and Nature Lover (at heart). She is an advocate for social justice in all forms, and loves to unwind by camping, skiing, hiking, and exploring the great outdoors. Melissa attended UW-Madison as an undergrad and earned her MSW at the University of Chicago in 2004. She's worked with youth of all ages and backgrounds across her 17-year school social work career, having spent 15 of those years in the Chicago area. Melissa's focus is on building school systems that support social/emotional growth and development; she provides clinical guidance to students, families and staff on navigating mental health diagnoses, other disabilities, and traumatic life experiences. Fundamentally, Melissa believes effective education begins with building a strong, supportive relationship; she values and upholds each student's implicit strengths and uniqueness. In 2018 Melissa and her family moved to Madison; she chose to step away from social work for a bit to join the ranks of ALNC's Environmental Educators and lead student field trips and summer camps. Prior to this, she had no idea how pond-dipping would change her life! It was the most fun she ever had at work, and knew immediately that she was in a very special place. Melissa is thrilled to rejoin ALNC as it's first-ever staff social worker, bringing a positive behavioral intervention lens to bolster ALNC student success. She considers herself a very lucky person to get to do this work!
Nature Preschool Educators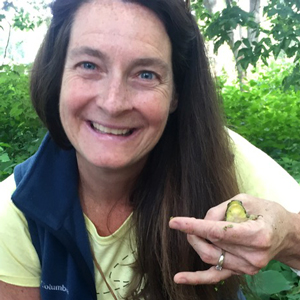 Amy (Chickadees)
amy@aldoleopoldnaturecenter.org
Amy is passionate about providing inquiry-based, hands-on, placed-based and play-based environmental activities for children. Amy has been an elementary educator for over 30 years and she recently retired from Park Elementary School in Cross Plains, WI. She has a Masters from UW-Madison in Educational Psychology, a BS in Preschool/Kindergarten and a second BS in Elementary Education from UW Madison. She is nationally board certified as an early childhood generalist. Amy served as the school forest coordinator and grant writer in her school district for 15 years. She has raised hundreds of monarch caterpillars to use in classrooms and at the nature center. Amy spent many years teaching young children how to cross country ski at Blue Mound State Park. She has worked as an environmental educator at ALNC since 2011. Amy is a lifelong Madisonian and an avid Badger fan. Amy loves to kayak, garden, cross country ski, ice skate, hike, and spend as much time outside as possible enjoying all that nature has to offer!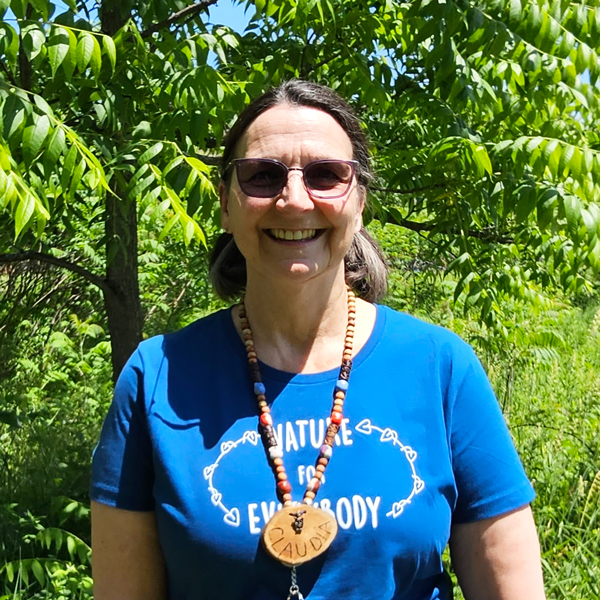 Claudia (Cottontails)
claudia@aldoleopoldnaturecenter.org
Claudia was born in Germany and her childhood there included summers camping with her family, as well as foraging for mushrooms and berries with her grandparents. After her family moved to Wisconsin when she was 11, she began to thoroughly enjoy learning about the flora and fauna of the Midwest. She adores finding wonder and joy in the little surprises to be found in nature, and delights in exploring and sharing that with young people. She loved teaching field-trips and summer camp at Aldo Leopold Nature Center starting in 2018, leading groups ranging from 3 year olds to college-aged students and feels that she's found her "happy place" here. With a BS in Environmental Science and several years of experience as a preschool teacher, Claudia feels that teaching at ALNP is her dream job. She appreciates the value of introducing children to nature early in life, and understands that this can spark a life-long love of our natural environment! She enjoys hiking, backpacking, reading, learning new things, knitting, snowshoeing, eating and traveling, and lives in Madison with her husband, two kids, and a lovable mutt.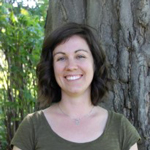 Jessi (Chickadees)
jessi@aldoleopoldnaturecenter.org
Jessi started teaching environmental education in 2007. She spent that summer in Alaska teaching about native plants, animals, and singing about salmon with kids. After that, she taught in the west coast and east coast before returning to Dane County in 2013. That is when she began teaching at Aldo Leopold Nature Center. She has always been a nature enthusiast and enjoys sharing that passion with kiddos. When not playing in the dirt or going on hikes she enjoys spending time sewing, painting, and gardening.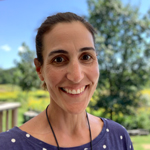 Julie (Cottontails)
julie@aldoleopoldnaturecenter.org
Julie's connection to nature developed during her childhood, hiking the dunes and playing in the waters and sands of Lake Michigan. Her wonder, care, and concern for nature led her to pursue a Bachelor's of Science in ecology from the University of Michigan and a career as an environmental educator. Then, after several years working in a preschool, her love of children and the desire to foster their wellbeing, led her to Western Washington University for a Masters of Education in school counseling and to work as an elementary school counselor and child and adolescent therapist. After moving to Madison in 2010, Julie worked in the non-profit sector, supporting school sustainability efforts and collaborating with teachers to integrate place-based, outdoor inquiry in their teaching. As a preschool educator, Julie aims to facilitate the wellbeing of children, families, and the natural world through helping to connect people to themselves, others, and nature. Julie enjoys hiking, cooking, baking, gardening, and acting. She lives in Madison with her husband, son, and dog.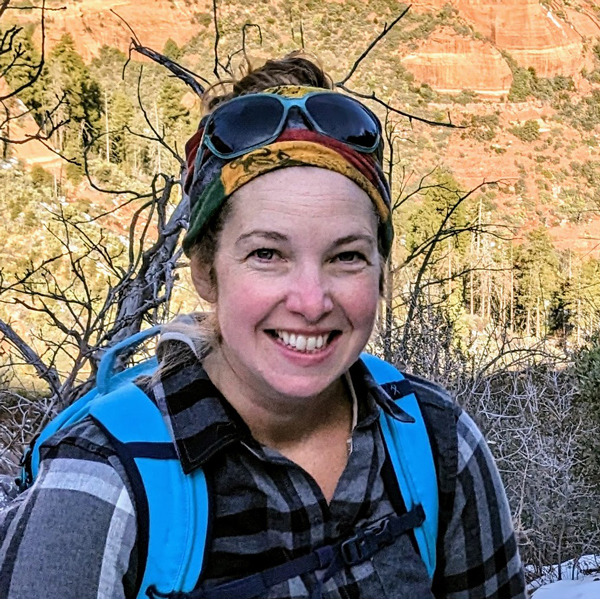 Kate (Nature Beginnings)
Kate is a nature play advocate and anything outside enthusiast. She has an undergraduate degree in Conservation Biology and a MAEd in Environmental Education. She has been working and volunteering in the outdoor education field for 15+ years, much of it centered on the early childhood audience. Kate believes unstructured, outdoor play is critical to healthy development for kids of all ages and is a big advocate for designating more time and space for play. Kate is a mom to three kids and keeps busy with local organizations that get kids, including her own, outside. Kate is also a mud kitchen-maker, a hammock reader, a trail runner, a mountain biker, and an Ice Age Hiker.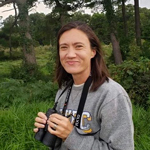 Melissa (Nature Beginnings)
melissak@aldoleopoldnaturecenter.org
Melissa has been at ALNC since 2016 and has been in the teaching profession for 16 years, having taught in California for several years before returning back home to Wisconsin. She loves spending time outdoors exploring new places and adding birds to her life list. If she's not working, she's usually spending time with her family or out birding in and around Madison.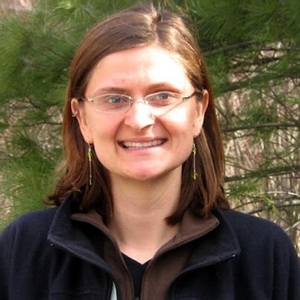 Nicky (Chickadees)
nicky@aldoleopoldnaturecenter.org
Nicky has been an environmental educator for 20 years and has a bachelor's degree in Environmental Education from the University of Wisconsin Stevens Point. She has experience working with children as young as infants and as old as teenagers. Working for the Forest Service allowed her to teach children all across the country from different backgrounds. She spent two years at Nature's Classroom learning how to write curriculum, teaching team building skills and doing historical simulations. At Neighborhood House of Milwaukee, Nicky worked with every age of kids, but really fell in love with teaching the toddlers. For the past 12 years, she has loved working as a Naturalist at the Aldo Leopold Nature Center. Nicky is most looking forward to dipping in our pond throughout the year and watching the phenological changes with the children. In her free time, she enjoys knitting, running, traveling to other countries and camping and has 3 children who love coming to ALNC.
Nature Preschool Support Staff, including Lunch Bunch and After Care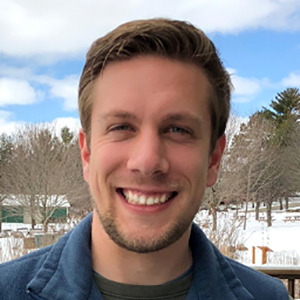 Brian
brian@aldoleopoldnaturecenter.org
Brian grew up traveling around the state of Wisconsin with his family and exploring the many landscapes the state has to offer. He has a Bachelor's degree in Zoology and Environmental Studies from UW-Madison and an M.S. in Conservation Biology from UW-Stout. Brian has been an environmental educator at ALNC for 8 years and has enjoyed leading backpacking, canoeing and camping trips, as well as working camps and field trips with kids of all ages. Brian believes every day spent outside leads to new discoveries and that connecting with nature is an integral part of education. In his free time Brian enjoys birding, photography, camping, and cheering on his favorite Wisconsin sports teams.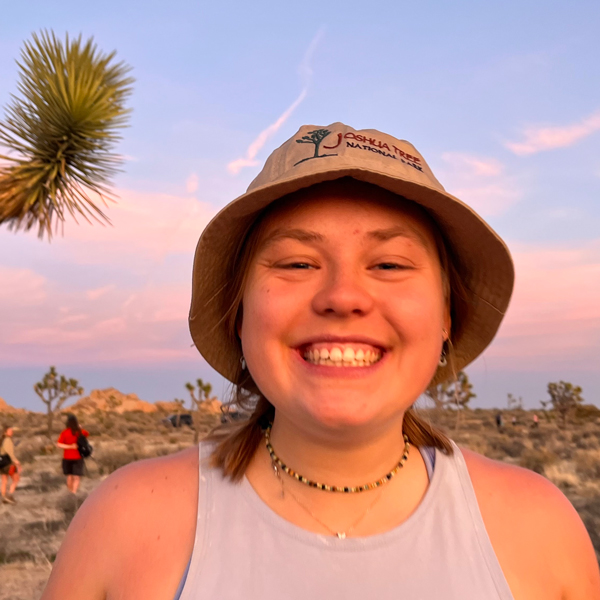 Caroline
cburki@aldoleopoldnaturecenter.org
Caroline grew up in Southern Wisconsin and spent summers exploring National Parks and other outdoor spaces with her family. This helped to cultivate her love and passion for nature and environmental justice. She spent the summer as an Environmental Education Intern at ALNC and is beyond excited to be continuing her work with ALNC! She is currently a Senior at UW Madison studying Conservation Biology and Educational Studies. Outside of school and work she enjoys rock climbing, reading, hiking, and spending time with friends and family.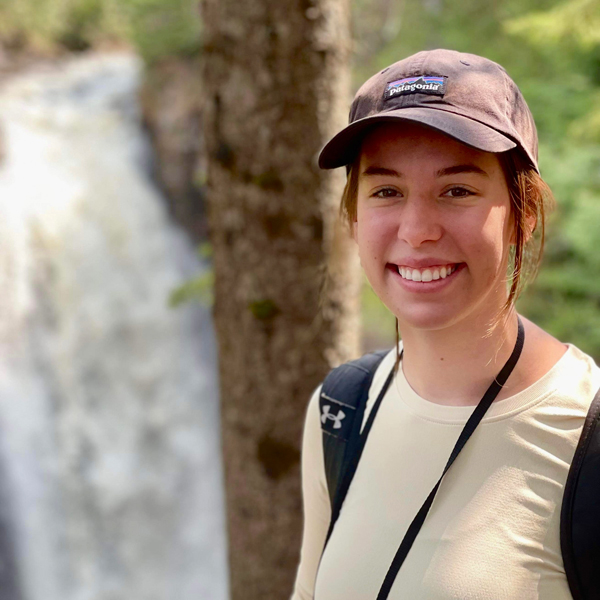 Maddie
Maddie grew up exploring the woods of Green Bay, WI, which is where her love for nature sprouted. She has a B.S. in Biology from the University of Wisconsin-Madison. While attending university, she was in the UW Marching Band as a flügelhorn player and was a member of the Badger Band Sustainability Team. Maddie started in 2022 as a preschool support teacher and as an environmental educator for various school-aged programs. If Maddie isn't playing alongside the kids or spitting out all the cool nature facts, she would most likely be found with her pets or her partner; hiking, baking, playing instruments, and watching movies. When she grows up, Maddie's dream job is to be an interpretive park ranger, much like what she loves doing here at ALNC. She is incredibly passionate in what she does and cannot envision herself doing anything else!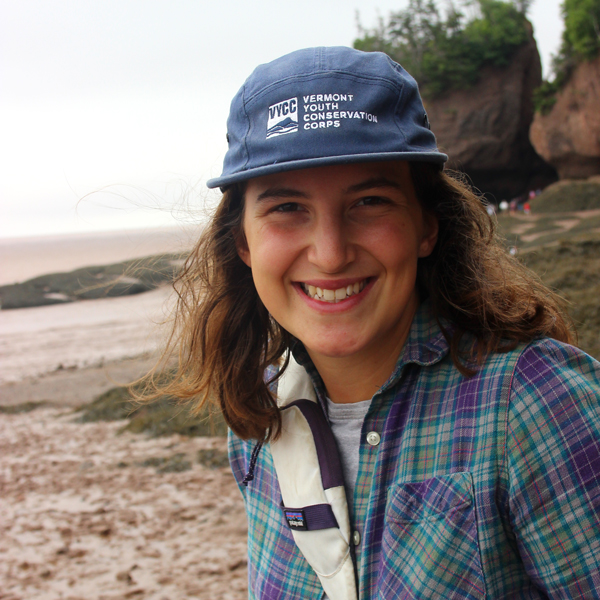 Maggie
Maggie comes to ALNC from New England by way of Idaho. She spent the past year getting her master's in environmental education and science communication at the University of Idaho's McCall Field Campus. Prior to that, Maggie spent 4 years in Vermont completing her bachelor's degree in Environmental Studies. While in the Green Mountain state, she worked as a conservation crew leader, a reporter for a small-town newspaper, a coordinator for a mountain bike summer camp, and did research on effective science education in schools. She has also send time in Panama researching community based eco-tourism. Maggie's passion for environmental education is rooted in helping folks tall and small nurture a caring relationship with the natural world. In her free time, Maggie enjoys Nordic skiing, alpine skiing, mountain biking, backpacking, running (but never up hills), drawing, napping, eating popcorn, and drinking raspberry tea!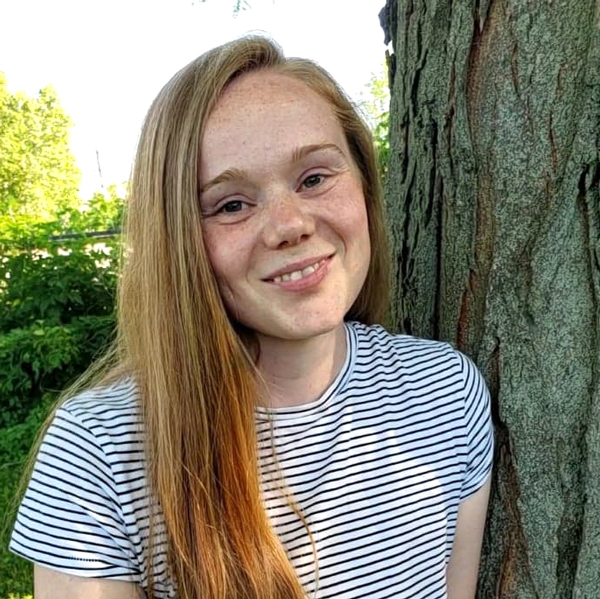 Natalie
Natalie is a Madison native who grew up camping, hiking, and otherwise exploring the outdoors. She has graduated with her bachelor's degree in Sustainable Management from UW Superior. In her spare time, Natalie can be found biking, birding, or spending time with friends and family.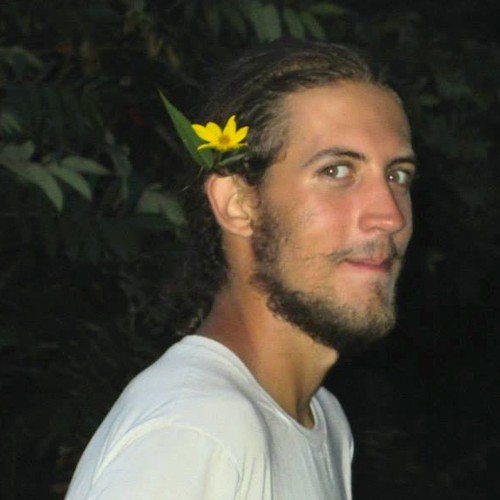 Nate
Getting equal joy from the lakes of Minnesota as the waterfalls of Minas Gerais, Brazil, Nate's bi-cultural upbringing fostered an early appreciation of diversity in humans and the greater community of life. He is passionate about social and environmental justice, as well as community living and positive youth development. They got involved in youth work while getting a bachelor's in Biology and Environmental Sciences from UW-Madison, and now have nearly five years experience as the Teen Program Coordinator at a local neighborhood center. They also have nearly a decade of cooperative living experience in Madison, including being a co-founder of the housing co-op where they currently reside. Nate enjoys frolicking in the prairie, and spending quality time with his wife and daughter.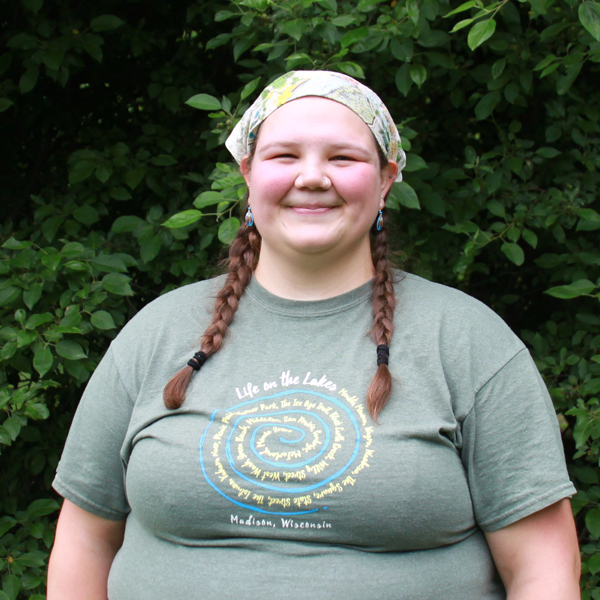 Rowan
Rowan grew up exploring Madison's city parks as well as visiting the woods, prairies, and lakes all around Wisconsin. These early introductions to the outdoors created a love for being and learning in nature and a passion to help others have these opportunities as well. In 2020 Rowan graduated from Northland College with a bachelors degree in Outdoor Education with an emphasis on equity and inclusion. Rowan has spent time working with preschoolers to teenagers leading summer camps, after school programs, and overnight trips. In their free time Rowan loves to garden, swim, cook, and craft!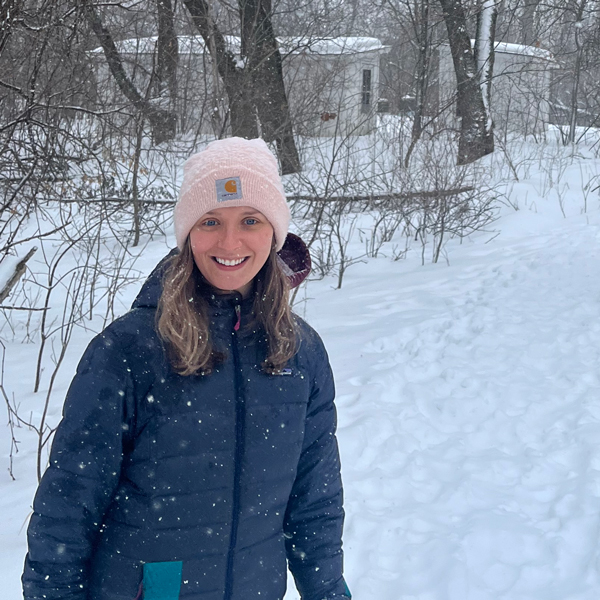 Siri (Field Trips, OAKS, Vacation Days)
Siri grew up in Green Bay, Wisconsin, and studied Environmental Studies and Norwegian at St. Olaf College. She recently moved to Madison from Minneapolis, where she ran nature-based programming as a Certified TimberNook Provider for Edina Public Schools. In her free time, Siri enjoys cross-country skiing, cooking, and spending time with her husband, Sam, and their basset hound pup, Luka.