Reach For The Stars!
The Aldo Leopold Nature Center is embarking on a Blue Marble campaign to install the region's first ever Elumenati Omnifocus Projection System in our Immersion Theater.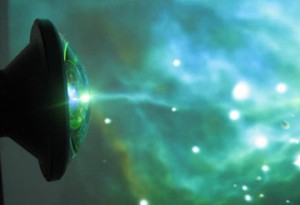 This one-of-a kind panoramic astronomy and earth science theater software was developed by the Hayden Planetarium at the American Museum of Natural History and will take audiences on interactive, virtual journeys across vast scales of time and space, provoking questions regarding the nature of the universe and human's role in protecting our fragile planet's place in it. This will also be overlaid with cutting-edge infrared technology and customized content, creating an interactive immersive experience like nothing else!
By incorporating digital planetarium tools into a dynamic digital environment, ALNC will be able to take audiences on seamless interactive tours from the edge of the observable universe to a space-borne perspective of Earth and explorations of planetary cycles and ecosystems, featuring remotely sensed data that illuminates ecological and biodiversity issues faced globally and in our own backyards.
Click here to make your donation today. Be sure to include Blue Marble Campaign in the comment section of your donation page. Thank you!
"The clearest way into the Universe is through a forest wilderness."- John Muir