Green Buildings Month
November 2, 2014 @ 10:00 am

-

2:00 pm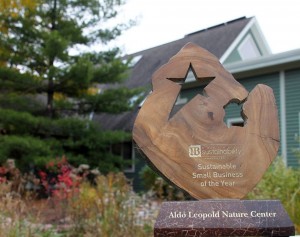 The Aldo Leopold Nature Center was recently awarded Sustainable Small Business of the Year Award by In Business Magazine — explore our exhibits this month to find out why!
Learn how conscientious construction, efficient performance, renewable energy, and sustainable practices can make a huge difference in saving energy, curbing emissions and having positive impacts on the environment. View special shows, interact with our green building digital curriculum, and take a tour of our building and grounds to explore our green features.
Programs this month:
Energy Revolution – Science on a Sphere  – Take an inspiring, in-depth look at how rising temperatures are changing Earth's climate and the ways that renewable energy technologies can help address the problem by reducing carbon emissions. Using dazzling animation and data sets from NOAA, NASA and the U.S. Department of Energy's National Renewable Energy Laboratory, the movie examines research into five transformational renewable energy technologies: cellulosic ethanol fuel, energy-efficient buildings, solar cells, new batteries and Smart Grid electrical transmission.
Interactive Green Building Tour – digital touchscreens – Learn about the green features at the Aldo Leopold Nature Center on our digital touchscreens and see if you can spot them in action around the facility!
Plus, "Green Building in Action at the Aldo Leopold Nature Center" slideshow, scavenger hunts, green building tours, and more! And, read more about our sustainability initiatives on our blog.
Related Events