January 2016 – Polar Express
January 3, 2016 @ 10:00 am

-

2:00 pm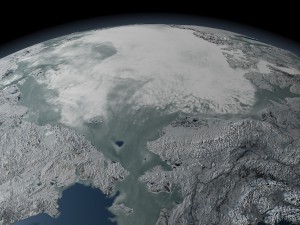 Take a trip to the poles with the Aldo Leopold Nature Center this month! Interesting, stark, and beautiful, our globe's polar ice caps function as the planet's air conditioners and play a critical role in climate change research and life on our Earth. Check out our hands-on exhibits, watch stunning ice sheet imagery, learn about glacial explorations and polar research, and more. It's a great time of year to visit the North and South Poles!
Programs include:
FROZEN on the 6-foot Science on a Sphere: FROZEN features the global cryosphere – polar caps, high altitude glaciers, permafrost-covered plains, and many other cold regions that play a vital role in global climate sustainability. As those cold places change, so changes the overall condition of the planet.
Polar Wildlife: Learn about polar plants and animals, track polar bears' movements and habits, connect the dots of polar food chains, and explore how these ecosystems are being impacted by climate change.
Polar Research: Learn how research at the poles, glaciers, and ice sheets is helping scientists understand Earth's oceans, climate, and wildlife.
… and more!
Plus, join us on Tuesday, Jan 19 for a special bilingual evening public lecture, Live from Antarctica! 
Related Events